Are you tanned, rested and ready? It is summertime after all!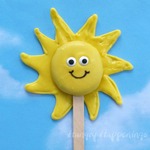 I just spent the last half-hour writing what I thought was a brilliant piece about getting out of our heads and spending more time enjoying the moment when it hit me that I was too busy writing the piece to actually enjoy the moment! Haha
This really is a lovely time of the year. The sun shines brightly, the garden is in full bloom, the daylight lingers longer into the early evenings, and people are out and about enjoying it all. Are you? Can you allow yourself a little bit of "me" time? I am officially giving you (and me) permission to "go goof off" and "smell the roses." Why? Because we're worth it!
Don't forget the sunscreen.